MSI the leading motherboard and VGA manufacturer recently introduced its new product line MSI MegaBook: M510A in the Netherlands. In a roundup of 14 major notebook brands with a maximum value of 1200 Euro, it was MSI who was crowned with the only award given: Best Tested by Computer! Totaal March 2005.
Computer! Totaal, by far the number one computer magazine in the Netherlands with a circulation over 200.000 copies and a strong reputation, tested 14 leading notebook brands available in the Dutch market with a maximum end-user value of 1200 Euro.
MSI was standing out because of its specifications, the configuration and the performance. The editor says: "Are you looking for a notebook that can do all, that has a long battery life? Then MSI Megabook M510A is your choice, which comes with a cover that can be personalized as extra. This model performs well on Internet, Office and 3D applications. Due to Centrino-technology you have also wireless connection. Burning DVDs is no problem thanks to the build-in DVD+r(w). Moreover the M510A has all the connections you might wish: from Firewire to USB, from LPT1 to network connectivity".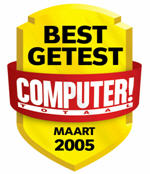 MSI is really proud to win this Best Tested award: "This award is a recognition of our efforts to develop, manufacture and deliver an outstanding performing and good quality notebook to the market", says Gary Tu, product manager notebooks at MSI. "It fits into our strategy that we want to deliver something extra to the market. We see now we succeeded with our Megabook M510A. That Computer Totaal now recognizes it is very positive."
CPU: Intel Pentium M® 1.6 GHz, Centrino ready
Chipset: i855PM
Memory: 512MB DDR
Graphics: ATI Mobile Radeon 9700 with 64 MB memory
Screen: 15.1 inch
Optical: QSI DVD+rw 8xDVD+R, 4xDVD+RW and -R, 2xDVD-RW, 24xCD-R and CD-RW
Hard disk: Toshiba, 40GB, 4200 RPM
Connectivity: 802.11b, 3x USB, Firewire, modem, Network, headset, microphone, PCMCIA, SD/MMC/MS/SM 4-in-1 cardreader.
Pricing, other configurations and other MSI notebook models are available trough our local distributors. More information is available on our website: www.msi-computer.nl www.msi.com.tw.
Source from the Computer Totaal