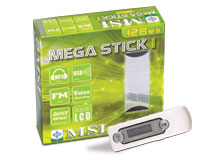 MSI™ outstanding R&D team aggressively moves into the IA consumer product market in 2003, and the MSI™ IA Department focuses on a series of compact portable consumer digital products. For the product line, "Personal Entertainment Device ( P.E.D.) Product Line,". MSI specially recommends the 5-in-1 [MEGA STICK 1], which acts as the innovative representative work of such product line.
In the beginning, the MSI MEGASTICK 1 product line primarily provided multifunctional digital music as its mainstream products, fully satisfying customer's need at this stage. Further related portable digital movie recorders will be introduced at the appropriate time according to the audio/video MPEG-4 technology and the situation of the digital movie market.
MSI™ MEGA STICK 1 has the following features:
Five-in-one Functions:
1. USB Portable Disk
2. FM Radio and Recorder
3. Digital Recorder

4. MP3, WMA Digital Music Player
5. Language Learner (Repeat Playing of Selected Sections)
With its compact and superior appearance, MEGA STICK1 gives you a deep impression at first sight, and its super power saving function is part of its performance. The battery will last for an average of 12 hours and up to 14 hours to fully satisfy consumers' requirements. No. 4 (AAA) alkaline batteries are used.
In addition to the current multifunctional MP3 portable disk's special cold light display and plug and play functions, MSI™ MEGA STICK 1 also has the following features:
| | |
| --- | --- |
| 1. | Auto Shutdown Function: User can adjust the predetermined shutdown time to save power. |
| 2. | Easy Upgrade of Operating System: User may download the new version of the operating system from the MSI™ website for new functions or OS of different languages by means of the bundled software and USB interface. |
| 3. | To let MEGA STICK 1 be sold all over the world and fused with the local consuming group, the operating system of MEGA STICK 1 can support 11 languages. In addition to Traditional Chinese, Simplified Chinese, and English, an operating system in different languages is offered according to the shipping area. At present, Japanese, Korean, German, French, Italian, Spanish, Portuguese, and Dutch are included in the plan. |